Hr Library
These InMails Get the Best Response Rates, LinkedIn Data Reveals
Source | www.linkedin.com | Katie Reid | Katie Reid | Greg Lewis
Recruiters monitor their InMail response rates closely, and for good reason. 
They're a good indicator of candidate engagement, but they also mean recruiters are getting more bang for their buck from their InMail allotment. Recruiters earn an InMail credit back if their message receives a response within 90 days — so response rates reflect both candidate engagement and recruiter efficiency. 
But what kind of InMails actually drive higher response rates, and how can recruiters improve their own InMail response rate? 
To find out, we took a close look at LinkedIn data to answer the following questions: 
Do longer or shorter InMails tend to get better response rates?
Does it matter what day of the week you send an InMail? 
Are personalized InMails more likely to get a response?  
Are Open to Work candidates more likely to respond? 
Read on for all the fun charts, context, and takeaways — but we won't keep you in suspense. Here's what we learned: 
Shorter InMails perform significantly better than longer ones 
The day you send an InMail doesn't really matter (just avoid Saturdays)
Personalized InMails perform about 20% better than ones written or sent en masse
"Open to Work" members are 75% more likely to respond than others
Now let's take a closer look at that data and think about what recruiters can do to make their outreach more effective. 
Shorter InMails get above-average response rates
Keep it short and sweet. You've probably heard that advice before, but you might be surprised by how clearly we can see the correlation between InMail length and response rates in the data.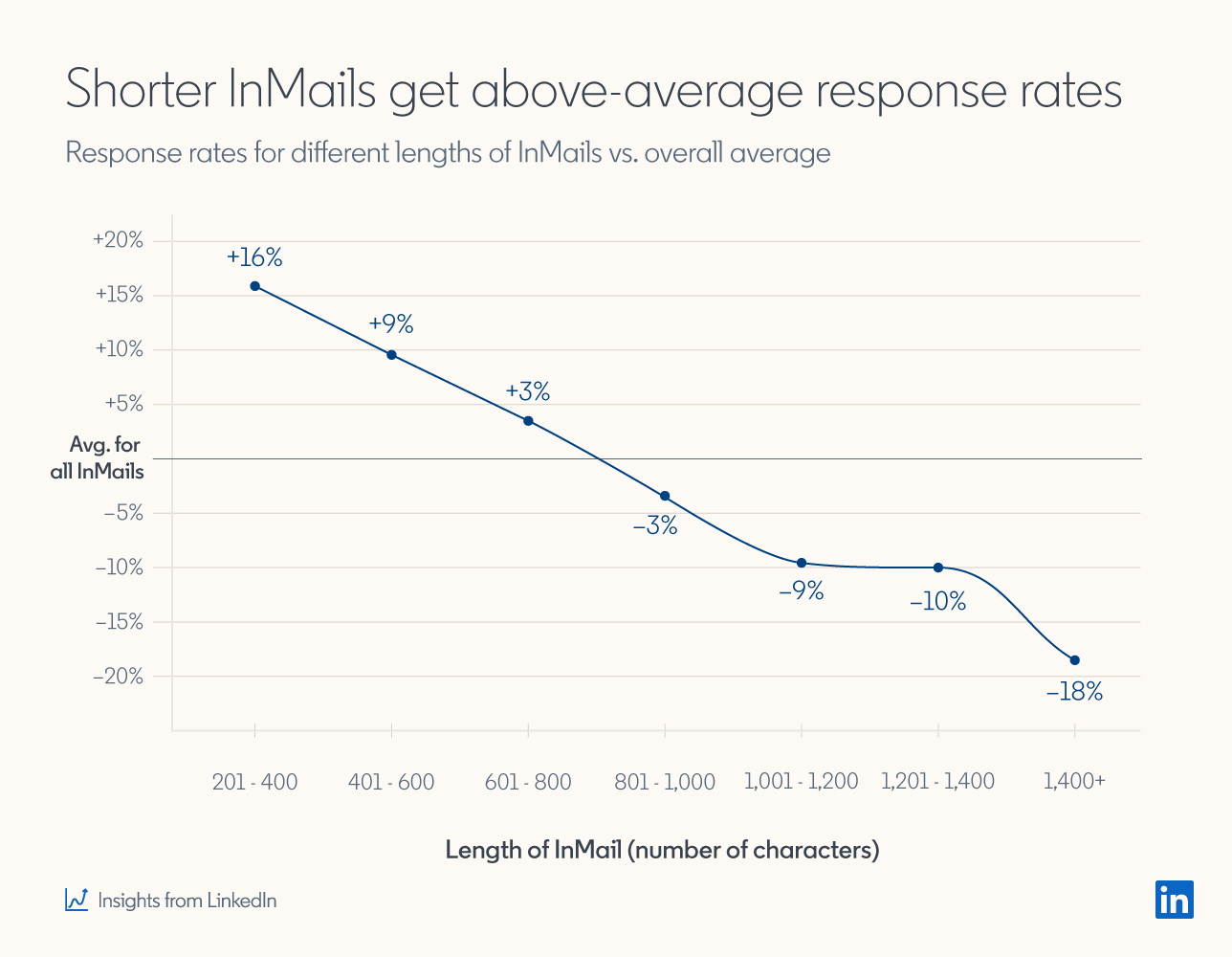 The response rate for InMails of 201 to 400 characters is 16% above the average rate. In other words, these shorter InMails are 16% more likely to receive a response, compared to the average InMail.